Chris's own running career began with Aberdeen Athletic Club training under Ken and Joyce Hogg and competing on the track and cross country. As a schoolboy he won many races and titles including medals at every age group from U13 to Senior Men at the Scottish East District Cross Championships.
After leaving Inverurie Academy he went onto further education at Manchester Metropolitan University and after graduating from there he found himself in London where he ended up joining Thames Valley Harriers and training with the infamous Frank Horwill, and later the Cottage training group. Success at cross country continued and he won the London Championships on Parliament Hill 4 times. He continued to race on the track and roads with a brief foray into the Marathon ending up with a 2:29:56 in London in 2010.
Despite living in London and becoming a father, as he got older he began to take an interest in the Mountain Running scene, no doubt inspired by the runs on Bennachie that had been a mainstay of his training as a school boy and when he returned back to Aberdeenshire on holiday. Chris ended up representing Great Britain and England at the World and European Mountain Running Championships many times. His highest placing coming at the World Championships coming on home soil at the 2015 edition in Betsw-y-Coed, Wales, where he finished 10th overall, and 3rd Briton, which led to the senior men's team grabbing the world bronze medal.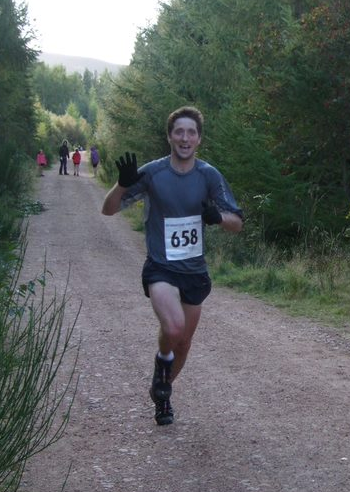 After moving to the south coast of England he joined Haywards Heath Harriers; he kept on winning and didn't slow down, with a running highlight for him winning the International Snowdon Hill Race in 2016.
Other representative honours included representing the Middlesex Cross Country team many times along with the Civil Service Cross Country Team.
In Oct 2020 whilst on holiday in Scotland with wife Lindsay and sons, Cameron and Alastair, Chris went out for a run in the hills above Invervar, Perthshire. The Glen Lyon horseshoe was well within his capabilities and, whilst we will never know exactly what happened, it would appear he became disoriented as a result of sudden, extreme weather conditions.  A large-scale search and rescue operation was launched and the hills were scoured by Mountain Rescue Teams, helicopters and a host of other volunteers. It is of some comfort that his body was found by 2 of his friends who had joined the search. Tragically, he died of hypothermia in the hills he loved aged just 43.
Although Chris was an outstanding runner it is his generosity of spirit and exuberance for life that those who loved him will remember him most for. Modest to a tee, he would make time for everyone he encountered and take an interest in other's passions and interests no matter who they were.  The tributes and outpouring of grief following his death were as much about how he conducted his life as they were about his achievements in running.